Fairbarn Electric Provides Quality Residential Electrical Service for North Bay, Ontario,
Providing top skilled licensed electricians in North Bay, Fairbarn Electric brings years of experience to the table so that you can trust the work being done on your home. Residential services cover everything you need in an electrical contractor in Ontario, including but not limited to wiring, home renovations, electrical upgrades, installations, troubleshooting and whole house surge protection. We also focus on electrical home inspections so when buying or selling your home we can ensure the wiring is safe and up to code.
With 20 years of experience, you'll find we can handle all your electrical needs. Find a more detailed description of our residential services below.
Full Service Residential Electrical Services in North Bay ON
Fairbarn Electric electrical contractors will come to your home to determine the root cause of the electrical issues you might be experiencing. Residential services include troubleshooting, repair, and installation of new or upgraded systems. Here are some signs your electrical wiring might need repair or replacement: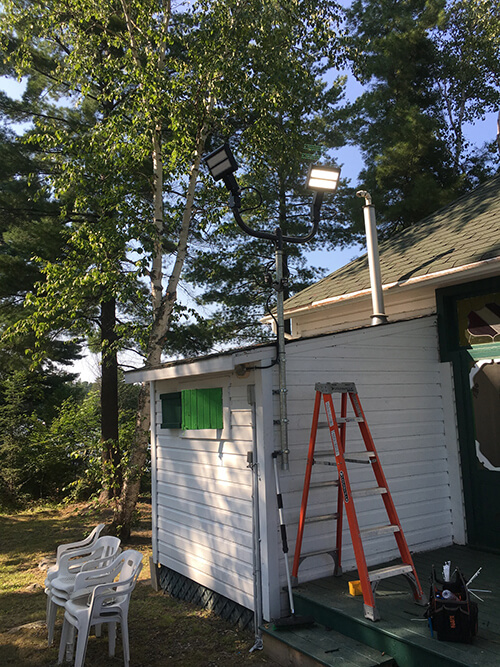 Electrical Installation from Bathroom fans to Switches, Lighting and Outlets
If you are renovating your home, Fairbarn Electric will take care of the electrical work in an efficient and safe manner. Residential electrical upgrades might include new outlet installation, new electrical wiring, new lighting, bathroom fan installation, and pot light installation.
Upgrade with Grounded Electrical Outlets 
Today it seems that homes require more devices than ever before. Between the laptops and desktop computers, x-box's, charging stations for phones, iPad and iPods, televisions and kitchen appliances -- we've never needed more outlets than any other time in history. Fortunately, Fairbarn Electric can accommodate your families technology needs including the installation of convenient USB charging receptacles. You might need to replace 2-prong outlets with 3-prong outlets (the third is a grounding pin). Having 3-prong outlets installed by Fairbarn Electric contractors will make for a safer home environment to keep your devices powered up.
Installation of Pot Lights in North Bay, ON
How much does it cost to install pot lights or repair a sagging recessed light? Fairbarn Electric is happy to provide an estimate on pot light installation for your home. It's helpful to read up on recessed lighting but you don't need to become the expert. If you've been thinking about having your living room, family room, kitchen or master bedroom updated with pot lights, Fairbarn Electric provides licensed contractors for pot light installations. Our electrical contractors are trained to know how to space and layout electric recessed lighting.
Knob and Tube Replacement using Fairbarn Electric Inc. as Your North Bay and Northeastern Ontario electrical contractor
If your house has knob-and-tube wiring, our company can provide an estimate for replacement of the outdated technology. It is important to understand that when knob and tube wiring was the standard practice it was safe for the products that it was providing power to at the time.  With the advanced electrical requirements of today's technology, the load requirements to power these appliances have changed, adding a greater demand on a homes electrical wiring.  Knob and Tube wiring cannot support this greater demand safely, making it imperative that this safety issue be addressed.  If your house has knob and tube wiring our company can provide an estimate for replacement.   Call on Fairbarn Electric Inc. for a quote.
Outdoor Electric Installations for Landscaping and Security
Upgrade your exterior space with increased lighting levels and more cost effective solutions.  These lighting solutions use LED lighting that cost less to operate that traditional outdoor lighting.
An Overview of Our Residential Services in North Bay, Ontario
Energy Saving Solutions
Service Upgrades:
Panel changes
Meter base changes
Hydro service upgrades
Sub service for both new and upgraded panels
Bring power to remote buildings
Use existing power cables or
Use new power cables
Renovations
Kitchen
Basement
Home additions
Knob and Tube wiring replacement
Exhaust and bathroom fan replacement/repairs
Generator Installations:
Whole house transfer switches complete with natural gas or propane generators
Small manual transfer switches with small gas powered generators
Electric Heat:
Baseboard
Forced Air Electric Heater
Electric Unit Heaters
Electric Furnaces
Home Automation:
Smart Home technology Installation
USB outlets
Wiring for audio sound
Wiring for automated furniture
Wiring for home security systems
Home Surge Protectors
Lighting Upgrades:
Upgrade to new technology
Provide Electrical savings on electricity bill
Outdoor Lighting:
Improve the look of your outdoor space
Increase the safety of your outdoor space
Buying or selling a home and need an inspection?
Provide detailed report regarding the homes electrical wiring status
Provide complete home electrical evaluation on your home or future home
Hot Tub/Pool Installations and repairs to wiring
New Home Installations:
From start to finish of new home electrical services
Home Safety:
Smoke Detector Installation
CO Detector Installation
Strobe Detecting Installation
GFCI outlet