Fairbarn Electric Inc. has Provided quality Commercial services for clients within North Bay and area for over 20 years.
We have extensive experience as North Bay's remodeling, construction, and electrical repair experts. Our contracting company installs wiring for a wide range of commercial venues including but not limited to office buildings, large box stores, retail, schools, apartment buildings, farm, government buildings, government agencies, Provincial Parks, parking lots and providing electrical power to the growing movie industry located within Northern Ontario.. We make it our job to prepare and repair your wiring needs so that you can do your job.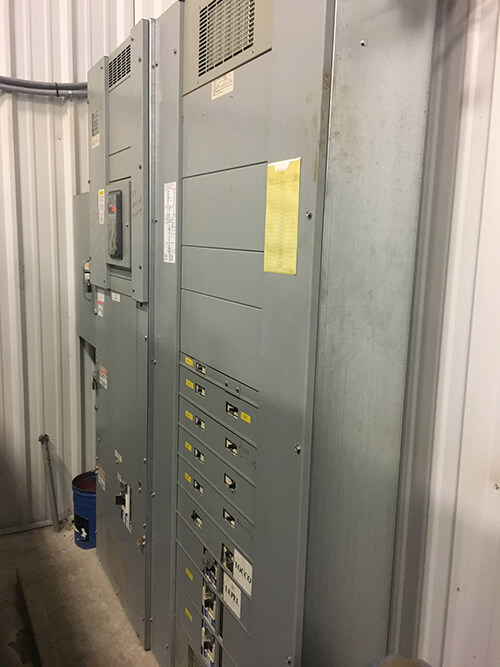 Commercial Electrical Needs
Whether you require complete renovations or simple outlet installations, our licensed electricians can get the job done. Upgrades will help your company prevent dangers in the workplace. With upgraded outlets and increased energy capacity you can provide a safe and operational workplace environment.
Helping to create Efficiencies
Our company will work with you on design and installation of commercial equipment including fixtures and life safety systems. For design build services, our licensed electricians provide you with fresh ideas for lighting and power systems, from the very beginning through the final walk-through and ongoing maintenance. We provide wiring expertise to troubleshoot your office needs. Our data network cable solutions can help you make sure your computers are all wired for efficiency. We also provide energy savings evaluations so that you can always keep an eye on that monthly power bill.
Generator Installation
Fairbarn Electric Inc. can help you to install a generator system from the very start of the process to completion:
Starting with an analysis of your power consumption
Sizing of a generator
Sizing of a transfer switch required
Installation of the new generator system
Servicing and ongoing maintenance of your new
Fairbarn Electric Inc. can help to service your existing generator system and inspect the system to ensure it is the proper fit for you and your companies needs.
Power and Conditioning 
With today's fluctuating hydro supply, the need has never been so great to protect the vital equipment that is essential to your business operating.  Fairbarn Electric Inc. can provide your business with a surge suppression solution based on an analysis of your business' needs.  Call Fairbarn Electric Inc. today to discuss how we can help.
Safety and Security
Our company certified professionals will work with you to make sure you have safety and security needs met, so that your employees and customers can work in an environment free of concern relative to outlets, wiring and lighting. Our security installations include security lights, backup generators, motion detectors and whatever else you require so your company can stay up and running even during storms.
Commercial Energy Review
Are you sure that your utility bill is as low as is possible? Our team of experts are available to assist you in managing your energy costs. We can provide an energy inspection, reviewing all of your devices and fixtures. We'll go through and make notes where you could be saving energy. It can be as simple as an automatic turn-off device installed on lighting that requires motion to awaken the light. Imagine how much you can save if you have your energy usage tailored to the exact needs of your employees and customers.
Commercial services cover: